**my consultant spoke to SW and their take on it is that the whole cake is 41 syns and a 28g portion is 4.5 syns - still not bad for a yummy cake!**
Hi all
I'm about to go to my meeting and tonight it is bufet night. I'm making the chick pea cake and in the recipie thread (quoted at the bottom of this post) the poster has said it is about 0.5 syns for the whole cake but when I put the nutritional values into the syn calculator it comes up with this:
hi thought i would add this one.
I think it is only about 1/2 sin per whole cake, on green. someone at my class last week bought one in as a taster but used almond extract and it was yum. Hard to believe it is made out of chick peas.
Chickpea Cake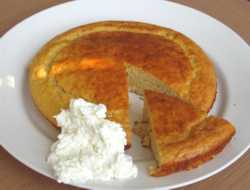 Preparation Time: 15 mins
Cooking Time: 25 mins
Recipe makes 8 servings
89.2 calories per serving
Ingredients
250 g Chick Peas, Tinned, Organic, Tesco
5 g Vanilla Extract, Average or Almond extract
1 Tsp/2g Baking Powder, Average
3 Egg/168g Eggs, Medium, Average
100g Cheese, Quark, Average
25 g Sweetener, Granulated
Method
Pre heat oven to 180 degrees
1. Spray a 7 inch cake tin with fry light and leave to one side.
2. Drain the chick peas and rinse thoroughly with water.
3. Place the chick peas in a blender and blend until smooth then add the eggs and blend again.
4. Add the sweetener, vanilla extract and baking powder.
5. Blend again until mixed in.
6. Place the mixture in the tin and bake in the over for 20 mins or until it has risen and is firm to touch.
7. Take out the over and leave to cool.
Whilst the cake is cooling place one tub of quark in a bowl and add sweetener to taste then mix together.
Once the cake has cooled cut in half and add half the quark mixture and sandwich the 2 halves together.
Spread the remaining quark on top of the cake and add some fresh fruit for decoration.
Nutrition Data per serving
Calories (kcal)
89.2
Carbohydrate (g)
8.3
Protein (g)
6.4
Fat (g)
3.2
Fibre (g)
1.3
Alcohol (g)
0.0
Fruit & Veg
0.4
Get Rid of this ad and join in on the conversation for free today! Tap here!
Last edited: