Hi,

my name is Nadine-Johanna and I am nineteen years old. I am German, but moved to London in 2007 and from there on I have worked as a Nanny and started studying for my Certificate of Higher Education Legal Methods in September last year. It's an Access to Law Course and I hope I can get into university to study law this September. Over the last two years I have put on nearly 5 stone and I am not happy about it, having always been a size 6/8 I now struggle to get into a size 14/16. I tried several diets over the last year, from Atkins to Almased (Protein Shakes from Germany). Having gained nearly a stone over the christmas period I decided to get rid of the weight.

I have started on the 21.January, and for one week I "ate" nothing but three SlimFast Shakes a day. After the week until last Monday I ate like before, but I didn't eat chocolate and I reduced all other "bad" food. Last Monday I started again, and since I started on the 21.January I have lost 13lbs.

I know it is great, but when I look in the mirror I can't see a change. No one else has noticed, a bit daunting but it doesn't get me down.

I found on picture, taken over the Christmas period. My weight was 13st 7lbs, this was also my start weight. Please do not take the tights and boots seriously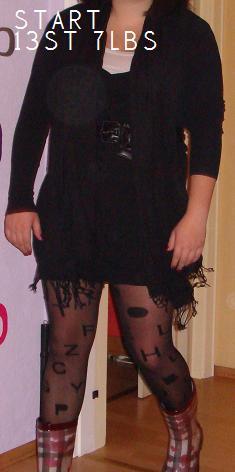 Get Rid of this ad and join in on the conversation for free today! Tap here!
Last edited: