Hello there miniminers!
I got this from a site called saladltd.co.uk - it is one of the tips for happiness and it's one I have been thinking about recently.
PEOPLE LIKE WHAT'S FAMILIAR
; after all, what you did yesterday worked well enough to keep you alive until today. This is a big success as far as evolution is concerned, so we are naturally inclined to use old habits of behaviour and thought.
When you've been doing something new for a while (whether it's going to the gym, tidying your desk or changing your thinking) its typically smooth sailing until you start to change. Then your nervous system sets off the alarm bells, and you start to feel like you can't be bothered to do it anymore.
This is the signal that it's working. When you feel that 'can't be bothered' feeling, pat yourself on the back. What you're doing is working, and you've got evidence. Then do it.
After a good six months with WW and encouraging weight loss I did feel confident about coping with the holiday period which was coming up at the end of June. This is traditionally been the start of a catalyst for disaster as far as maintaining weight loss is concerned. However this time I was in a good place and I could not imagine being anything but successful.
A couple of weeks after the holiday and I was aware that bad habits had begun to rear their ugly heads again and yet again I seem powerless to prevent the descent back into the black hole. I had forgotton the the comfort I got from returning to these bad habits, and the accompanying despair afterwards. Why couldn't I seem to get a grip? How could it be so hard? I really wanted to succeed this time, so why was I on the road to disaster yet again?
I like analogies so I was trying to think of one to illustrate what it felt like. Well I have one of those wooden labyrinth toys (I found a picture below)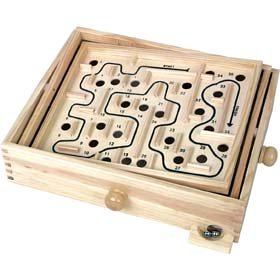 and I think it sums up how I sometimes feel when one minute I am in the groove and doing well, feeling confident, in control (and the ball bearing is going in the direction I want), when suddenly there is a little wobble, but it's ok I correct it, but then there's another, and another correction but it is a bit over-corrected and the ball goes the wrong way. No matter how carefully I try to get back on track, I panic and make it worse. Then I take a deep breath and start again but all my past failures come back to haunt me (usually at night) and I get swamped, and that this point the more I try the more I seem to fall further away from my goal.
In the past I have allowed this self-destructive behaviour to continue, but not this time. Because I know I don't have to any more. I know that the 'old familiar' is not the way forward any more, there is an alternative, and I have been living this alternative way for several months until recently, and I can live it again.
It's funny how our perceptions can colour (or discolour) how things really are.
Since sinking back into bad eating habits I have felt that I am a lost cause. However, the FACT is that I still fit virtually everything I fitted before the summer holidays and, although I have put on a few pounds I can lose them in a couple of weeks with care. So I will gather up the toys I have tossed out of my pram
, and start taking back responsibility again.
Finally, this next bit of wisdom (courtesy of saladltd.co.uk) is very pertinent, and I fully intend to embrace it from now on...
YOU ARE ALREADY HERE
The place you thought you'd get to once you'd made the changes, achieved the goals, completed the journey; you're already here. You never left!
The only thing that has ever stopped you from experiencing the reality of being here is the idea that you need to be somewhere else. The only thing that is (or can) stop you from experiencing the peace and fulfillment of now is the idea that you need to be somewhere else.
But you don't.
You're here, and you always have been. You're here, and you always will be. So you can stop struggling, relax, and feel a sense of comfort in the knowledge that you are already here.
I hope you find this stuff useful and let me know your thoughts and ideas, the more the merrier.
AJ
p.s. the avatar is me and my daughter dressed up for formal night on the cruise.
Get Rid of this ad and join in on the conversation for free today! Tap here!