Serves 4 VERY generously
2 HEA and 1.5 syns per portion on a green day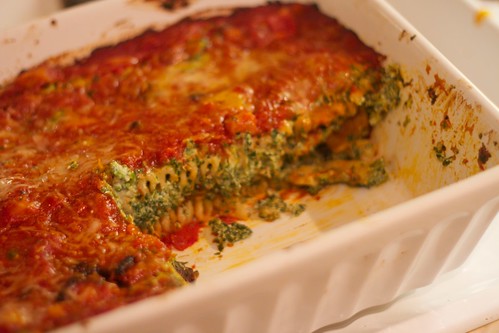 Ingredients
1 medium butternut squash
750g frozen chopped spinach
340g ricotta cheese (4 x HEA)
112g parmesan cheese (4 x HEA)
Fresh nutmeg
Lasagne sheets
1 tbsp olive oil (6 syns)
2 tins plum tomatoes
1 onion, chopped
2 cloves garlic
1 chicken stock cube
1 tbsp tomato puree (0.5 syns, negligible per portion)
Salt & pepper
Peel and chop the butternut squash into small cubes (about 2cm). Spread on a baking tray and spray with oil spray. Roast at 200C for 40 mins until just caramelised and golden round the edges but not too brown.
Meanwhile make the tomato sauce. Heat the oil and sweat off the onions and garlic until soft and translucent. Add the tomato puree and cook for 5 mins. This gives it an even richer tomatoey flavour. Seasonw ith salt & pepper.
Add the tinned plum tomatoes and stock cube. Stir well and leave to simmer for 30 minutes.
Defrost the spinach and squeeze out the excess water through a sieve. Transfer to a bowl. Add the ricotta and most of the parmesan (save some to sprinkle on top before baking). Season with a little salt & pepper and fresh grated nutmeg. Mix well.
To assemble, spray the bottom of a baking dish with spray oil and pour a little tomato sauce. Layer the lasagne sheets, top with 1/3 of the spinach mixture, 1/3 of the roasted butternut squash and a small dribble of the tomato sauce (save most of the sauce for the top layer). Repeat three times so you have three layers of each. Finish with a generous layer of tomato sauce and top with remaining grated parmesan.
Cover with foil an bake at 180C for 35 minutes. Take the foil cover off and bake for a further 10 minutes.
Eat!
Get Rid of this ad and join in on the conversation for free today! Tap here!